Volkswagen Golf SportWagen Maintenance Schedule

If you want to drive around Orem, West Valley, and Murray City in a reliable vehicle, a great choice is the Volkswagen Golf SportWagen. Like all VW models, the VW Golf SportWagen is known for its dependability, particularly if you're making sure to schedule regular maintenance for your vehicle. Scheduling periodic maintenance will help you detect developing issues with your car, so that your vehicle always runs the way you need. Follow the 2018 Volkswagen Golf SportWagen maintenance schedule and your automobile should always run like new.
Minor Maintenance
The maintenance schedule for the VW Golf SportWagen, as with most VW models, is broken down into three sections, the first of which is Minor Maintenance. The Minor Maintenance service appointment needs to be scheduled after you've driven 10,000 miles or have owned your vehicle for a year. Several important tasks will occur at this appointment:
Brake pad inspection
Brake disc inspection
The service items at this appointment should be repeated once a year or every 10,000 miles.
Standard Maintenance
The second part of your 2018 Volkswagen Golf SportWagen maintenance schedule is Standard Maintenance. As you might expect, the Standard Maintenance appointment covers several of your vehicle's most important service items, including those in the Minor Maintenance appointment. You need to schedule this appointment every two years or 20,000 miles.
During this service appointment, your VW Golf SportWagen will undergo a variety of inspections. A battery tester will be used to determine if your vehicle's battery is holding a charge correctly. The level of your brake fluid will also be checked, and if necessary, your fluid will be topped off. Your vehicle's exterior lighting will be tested, and the engine and engine compartment will be inspected for damage and leaks.
Extended Maintenance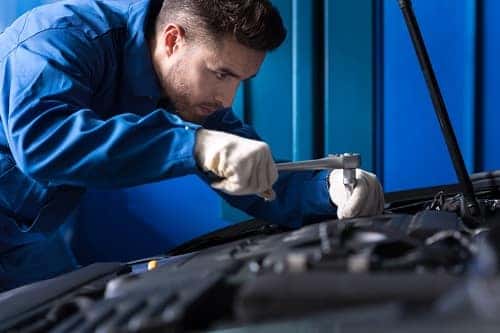 The final type of appointment on your maintenance schedule is known as Extended Maintenance, and this service visit will need to be scheduled every 40,000 miles. The Extended Maintenance appointment will include all tasks of the previous two appointments, as well as several other important items.
Because corrosion can cause big problems with any vehicle, the interior and exterior body will be examined for this type of damage. Your brake system will also be examined for damage and leaks. An inspection of your steering and suspension will occur.
Other Service Items
In addition to these three major service groups, there are some other tasks that you will need to schedule periodically for your vehicle. Your vehicle's air filter, for example, needs to be changed every six years or 60,000 miles, whichever milestone you reach first. The brake fluid should be changed after three years of ownership, and then every two years moving forward.
Schedule Service at Volkswagen SouthTowne
If you want to keep your vehicle running like it did the day you drove off the lot, then you need to schedule regular maintenance based on your manufacturer's service schedule. When you're ready to schedule a service listed on the 2018 Volkswagen Golf SportWagen maintenance schedule, you can stop by Volkswagen SouthTowne. Our team can fulfill your maintenance needs and keep you on the roads in Orem, Murray City, and West Valley. Schedule an appointment online today!