Volkswagen Service South Jordan UT
Welcome to the Volkswagen Service Center at Volkswagen SouthTowne. Getting your vehicle serviced regularly is one of the best ways that you can ensure that it remains in good condition for years to come. We're your destination for specialized Volkswagen service, including inspections, maintenance, and repairs. Our technicians are expertly trained, and have the experience needed to work on any vehicle. They'll help keep your car healthy, so you can continue travelling the streets of West Valley, Murray City, and Orem.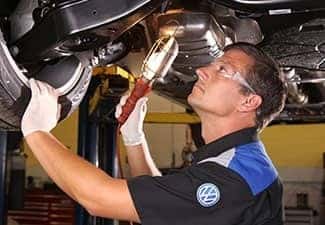 Regularly Scheduled Maintenance
Bringing your car in for regularly scheduled maintenance about every six months is the best precaution you can take against future car damage. During these appointments, our team will thoroughly inspect your vehicle's most vital systems for wear and tear, replacing any damaged or worn-out parts. This means that those parts won't break in the future and cause problems that are much more expensive to repair. We'll also give you a fresh oil change to keep your engine running smoothly, and a tire rotation to ensure even wear on all four tires. This will make sure that your car is safe to drive, your wheels will last longer, and you'll achieve better fuel efficiency.
Vehicle Repairs
If you ever do experience an issue with your car that needs to be repaired, our team can help fix it up in no time. Whether you've noticed an indicator light on your dashboard, a strange sound coming from under the hood, squeaky brakes, or some other problem, you can bring your car straight to our service center to get it sorted out. We'll discover a solution as quickly as we can, and you can trust the quality of each repair, because we only use factory quality OEM parts, which are built for longevity.
Save on Volkswagen service, parts, accessories, and even repairs with OEM
specials
at VW SouthTowne.
Schedule Your Service Appointment
The team here at the Service Center at Volkswagen SouthTowne is always here to help get your car safely back on the roads of West Valley, Murray City, and Orem after a repair. If you need a quick maintenance checkup, or if you suspect your vehicle has a problem that needs fixing, contact us right away. We'll get you scheduled for a service appointment and have you sorted out in no time.