Winter Tires vs All Season Tires
When purchasing a new vehicle, you must carefully consider the type of tires you need. Whether you live in West Valley, Murray City, or Orem, UT, you've probably questioned whether to get winter or all season tires. Here at Volkswagen Southtowne, we want our customers to know the advantages of both. Weighing the benefits winter tires vs. all season tires will help you make a confident, informed decision based on your particular vehicle needs. Once you decide, check out our online Tire Store!
Winter Tires
Utah experiences plenty of winter weather, which can make driving dangerous. With the proper set of winter tires, you will feel safer during your travels. Winter tires with aggressive treads and metal studs draw tire buyers. These tires are an investment if your area often experiences extreme weather. If not, consider buying regular snow tires.
Snow tires are perfect for Utah's wintry weather because their grips are designed to "bite" and "chew" snow. Like large tires with metal studs, snow tires have thick tread patterns and a great grip. Additionally, winter tires use thin cuts called sipes to break up their tread pattern. Sipes give the tires more malleable surfaces, which keeps your car secure on slick winter roads.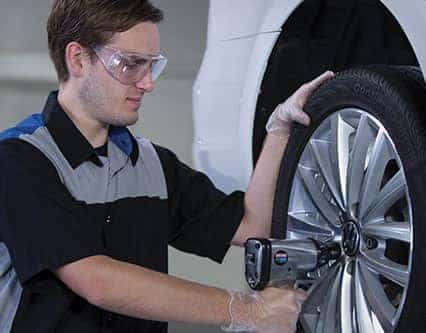 In extreme winter weather, drivers sometimes lose control of their vehicles. In West Valley, Murray City and Orem, UT, this is a particular problem during the season's coldest periods. Winter tires' strong grips will help you stop safely no matter the road conditions. Additionally, you don't have to use all wheel or four wheel drive with winter tires, even during heavy snow. Thus, your tires could last for several winters.
All Season Tires
At Volkswagen SouthTowne, we encourage purchasing all season tires as well as winter ones. As the name implies, all season tires will perform well during summer and winter weather. Like winter tires, all season models are designed with weather-specific treadwear in mind. Their tread patterns are designed to expel water, so heavy rain sluices easily off your vehicle. All season tires also grip the road more loosely than their winter counterparts, making steering and braking easier during good weather.
The rubber compounds on all season tires have wide temperature ranges. They will withstand Utah's summers without cracking, fraying, or losing tread. Like winter tires, all season models are designed with sipes, which helps them hold moisture and improves grip.
All season tires are default on most cars. As such, they are expected to provide not only a safe ride, but a smooth and quiet one. Their medium-sized tread blocks help reduce noise levels, while their rubber compounds are specifically chosen for the smoothest ride possible.
Keep in mind, all season tires are not the same as summer ones. For instance, they do not handle as sharply as summer tires. Additionally, they are not meant for continuous exposure to extremely dry conditions. With that in mind, the lack of sharp handling may keep you safer during travels, especially on curvy or bumpy roads. In general, all season tires may also handle rural terrain better than their summer counterparts.
Where Should I Buy?
If you are in the market for all season or winter tires, and you live in the West Valley, Murray City or Orem, UT, areas, visit Volkswagen SouthTowne or contact us online. If you are still unsure of which tires to buy for your vehicle after learning more about winter tires vs. all season tires, come to us for advice. We will help you find the perfect tires for your vehicle, no matter the weather.