Best Pubs for St. Patrick's Day near South Jordan, UT
The perfect St. Patty's Day can only be had with plenty of booze, lots of amazing food, and of course, a little bit of luck. So, when March 17 rolls around once again, make sure that you've lined up the ideal spot for ringing in the most Irish day of the year.
Fortunately, we're here to help you choose your next favorite place to celebrate with our guide to the Best Pubs for St. Patrick's Day near South Jordan, UT. Let's begin your journey to finding your pot of gold by checking out these local hotspots…
Piper Down Pub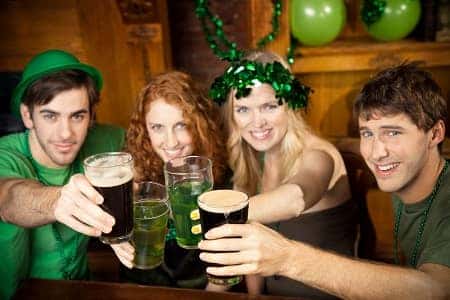 Once St. Patty's day arrives, don't settle for just any old bar or pub. Luckily, Piper Down Pub provides plenty of traditional Irish dishes with a unique twist. Want to snack on an appetizer before your main course? Try out the Reuben Potato Skins, which feature Corned Beef, Sauerkraut, Cheddar, Swiss, and Thousand Island Sour Cream.
While you're here, reminisce on your Irish grandma's best recipes by opting for entrées like Corned Beef and Cabbage, Shepherd's Pie, Bangers and Mash, and much more.
Or take a bite out of an Irish-inspired burger in the form of the Paddy O'Melt that comes with 1/3-pound burger, melted Cheddar and Swiss Cheese, Chipotle Mayo, and gets finished off with a stack of Grilled Onion on Grilled Marble Rye bread.
Plus, this destination serves up more Emerald Isle whiskeys than you can imagine. Some of the things you'll find behind the bar include Jameson 12 Year, Kilbeggan, Clontarf 1014, and more.
Take a look at some mouthwatering photos on their Facebook profile!
Rock & Reilly's
With a slogan like, "Premium Quality Troublemaking Since 1918," you can trust that you'll have a great time at Rock & Reilly's.
This all-out Irish dive contains all the essential components of a St. Patrick's Day feast, like Irish Nachos, which are Homemade Kettle Chips covered with Peppercorn Bacon, Irish Cheddar, Scallions, and Corn Salsa.
Why not order a selection of teeny-tiny sliders for your friends and family while you're decked out in your green-hued apparel and four-lead-clover accessories? All you have to do is choose between options like Truffle Beef Sliders, Wee Burgers, and more.
Irish dance over to their Facebook page for a list of upcoming events!
The Green Pig Pub
At the Green Pig Pub, Irish and Mexican influences join forces to present you with some downright delectable fare.
So, if you're craving a classic Irish meal, like the Angus Corned Beef Reuben, you'll bite into this mile-high sammie that's decked out with House-Sliced Corned Beef, Sauerkraut, Swiss Cheese, and Thousand Island Dressing on Toasted Marble Rye bread.
Alternatively, you can add some spice to your St. Patty's festivities with the Chile Relleno Burger, which sizzles your mouth with a 6-ounce Angus Beef patty topped with grilled Anaheim Pepper, White Cheddar, and a Fried Egg piled onto a Toasted Challah Bun.
Plus, this local joint offers up plenty of celebrations on March 17 with Bagpiper performances and lots of boozy drinks.
Check out their Facebook page for a look at their vegetarian options!