Best Sports Bars near South Jordan UT
Whether you're wanting to hang out with your buddies to watch the game or to go out and have a drink, these three local sports bars near South Jordan, UT, have the perfect atmosphere for a great night.
The Break Sports Bar & Grill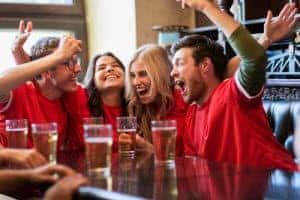 Take a break from the ordinary at The Break Sports Bar & Grill and participate in the different social events they have to offer, including poker and karaoke!
Maybe you just want to enjoy a good meal, sit back, and relax while watching the game on a big screen. No problem, The Break has a great menu full of delicious food.
Try their featured item: Regular Mac and Cheese, which isn't your typical mac and cheese. It's a heaping bowl of Cavatappi pasta, four cheese sauce, topped with bacon bits. It's obviously their most famous item on the menu for a reason.
There's nothing better than game-day food, but if you're looking for something more, you have a plethora of options including salads, tacos, burgers, and sandwiches. There is a meal for everyone.
Visit the Break Sports Bar and Grill Facebook page to stay informed of their various events and specials.
Iggy's Sports Grill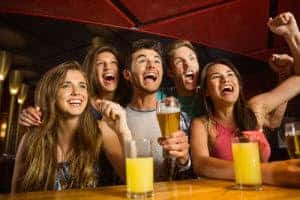 Pizza, wings, burgers, and more are offered at Iggy's Sports Grill to ensure you have a great meal while watching the game.
Whether you're looking for a small plate to nibble on or a three-course meal, they have something for all occasions.
Try their Pig-Out Burger, which is a half-pound of fresh ground chuck, topped with lettuce, fresh onion, onion straws, cheddar cheese, pulled pork, and BBQ sauce all between a toasted bun with one side of your choosing. If you want to enjoy the big game, or catch up with old friends, Iggy's is the place to be.
Leatherheads Sports Bar and Grill
Watch the game, play some poker, sing karaoke, or shoot some pool at Leatherheads Sports Bar and Grill. Whatever you choose, make sure it's in a place where you can let loose and have some fun.
While listening to a live band, or catching up on the football score, chow down on some delicious food. Leatherheads offers a wide variety of appetizers, entrées, desserts, and drinks for whatever mood you're in.
Try one of their pre-game appetizers like the Macho Nachos: a plate of tortilla chips covered with diced tomatoes, olives, jalapenos, scallions, sour cream, guacamole, and cheddar jack cheese, or their famous hot wings.
After your pre-game, choose from a selection of signature burgers, sandwiches, and more. End your evening with one of the two (or both) desserts including the chocolate lava cake or hot apple pie.
Head on over to the Leatherhead Sports Bar and Grill Facebook page to view upcoming events and specials.
Belly Up to One of These Three Sports Bars near South Jordan UT
After a hard day at work, or if you just need to relax, head on over to one of these local sports bars near South Jordan, UT! Hang out and watch a game or pig out on their delicious food. Whatever you do, you will have an entertaining time!