2018 VW Tiguan Named 'Best Compact SUV' of 2017 by Cars.com
Car shoppers near West Valley, Murray City, and Orem who are on the hunt for a new compact crossover SUV will be pleased to hear that the 2018 Volkswagen Tiguan was named 'Best Compact SUV' of 2018 by Cars.com. The news was announced by Cars.com and Volkswagen of America, Inc. last September, and our team at Volkswagen SouthTowne is happy to relay the report to you!
Find out how the VW Tiguan won over the judges with its impressive utility, standard driver-assist features, and more by reading below!
Cars.com Verdict: Room to Spread Out
The Volkswagen Tiguan went through a recent redesign that added nearly 11 inches to its wheelbase and more than 20 inches in body length, and that extra space makes itself known in the roomy interior. In the two-row version, front and rear riders can enjoy 40.2 and 38.7 inches of legroom, respectively.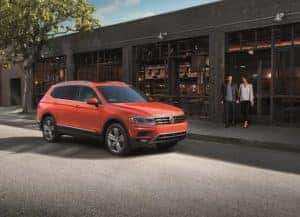 In the three-row configuration, legroom is divvied up as follows:
Front Legroom: 40.2 inches
Second-Row Legroom: 36.5 inches
Third-Row Legroom: 27.9 inches
The third row is a great fit for kids, but the second row will accommodate adults, as well. These numbers highlight why the VW Tiguan earned high marks for spaciousness from the Cars.com judges.
Look at All That Cargo Room!
Jennifer Newman, editor-in-chief of Cars.com, praised the 2018 Tiguan for its cargo capacity, saying it sits near the "top of the class, making this small SUV a huge advantage for shoppers concerned about getting the most room."1
If you choose the three-row version of the Tiguan, you'll find 12 cubic feet of cargo space behind the third row of seats, plenty for your golf bags or weekly groceries. Fold down the second and third rows for a max of 65.7 cubic feet, which is great if you need space for outdoors gear, storage bins, and more. Meanwhile, the two-row Tiguan tops out at an incredible 73.5 cubic feet of cargo room!
Advanced Safety… Standard
The judges were especially impressed with the VW Tiguan driver assist technologies. Available features include Forward Collision Warning with Automatic Emergency Braking, which can alert you when it senses an imminent front-end collision and apply brakes if necessary. And blind-spot warning will make changing lanes safer and easier.
The Volkswagen Tiguan has several standard active safety features as well, like seven stability-enhancing systems. With electronic stability control, your vehicle will detect and reduce loss of traction and skidding when it happens. And electronic brake-pressure distribution helps make sure you have enough stopping power in hard-braking situations.
As the judges realized, it all adds up to a vehicle engineered and equipped with your safety in mind!
Discover How the 2018 VW Tiguan Earned 'Best Compact SUV'
The 2018 VW Tiguan has now arrived in the showroom at Volkswagen SouthTowne. See for yourself how the Tiguan earned the Cars.com title of 'Best Compact SUV' by scheduling a test drive and getting a taste of what it feels like to sit behind the wheel of this impressive car.
Will it meet all your driving needs in the West Valley, Murray City, or Orem locales? Now's your chance to find out!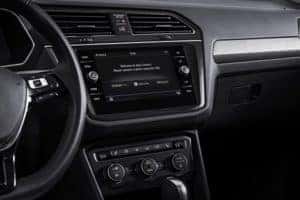 1 Volkswagen of America, Inc., "2018 Volkswagen Tiguan Named Cars.com 'Best Compact SUV of 2017," last modified September 18, 2017, https://media.vw.com/releases/926.