Volkswagen Golf vs Mazda3
No matter where the roads of West Valley, Murray City, and Orem take you, you've got to be supported by a vehicle that can do it all. By choosing either the 2018 Volkswagen Golf or the 2018 Mazda3 as your next sidekick, you'll advance down any path with top-notch amenities.
But to truly stand out in the crowd, only one of these compact vehicles will go above and beyond your expectations.
To determine which of these sporty sedans delivers on all your needs, let's check out this 2018 Volkswagen Golf vs. Mazda3 vehicle comparison created by Volkswagen SouthTowne. Once you've scoped out the specifications, you'll be ready to hop behind the wheel of your perfect ride.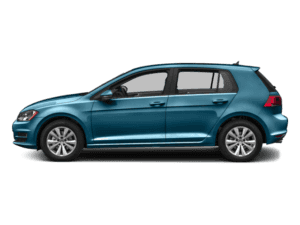 Performance Beyond the Standard
With one look at the 2018 Volkswagen Golf, you'll realize why this compact companion maintains its status as a well-loved vehicle.
Tucked beneath the sleek hood of this roadster awaits a standard 1.8-liter turbo engine that surges forward with 170 horsepower and 184 lb-ft of torque. With those numbers, you won't hesitate to zoom along the highway like a tireless champion.
In addition, every Volkswagen Golf comes armed with the exclusive XDS® Cross Differential System, which enhances the agility and athleticism of this vehicle. By monitoring the suspension and automatically applying select brakes, your car will handle sharp turns like an expert.
On the other hand, the 2018 Mazda3 offers up a 2.0-liter engine that produces 155 horsepower and 150 lb-ft of torque. Unfortunately, this sedan doesn't quite match the strength served up by its Volkswagen competitor. And without the intelligent differential system provided by the Volkswagen Golf, you may find a ride in the Mazda3 a little less smooth than you'd prefer.
2018 Volkswagen Golf vs. 2018 Mazda3: Innovation
Above all else, your vehicle should suit you up with plenty of convenient technologies and an endless amount of entertainment. Luckily, the 2018 Volkswagen Golf serves up the technology of your dreams with its optional Composition Media display, which operates using an 8-inch touchscreen.
Once you press a button on this system, you'll open up a portal to all your favorite on-the-road gadgets, such as:
HD Radio™
SiriusXM®
Bluetooth® and more
Alternatively, the 2018 Mazda3 comes with a display that maxes out at seven inches, with no option for a larger screen. Without the upgraded system found inside the Volkswagen Golf, it could be more difficult to choose from the main menu while maintaining your focus on the road.
Furthermore, this sedan doesn't provide SiriusXM® capabilities as an option, which means that you may not be able to connect to your most beloved stations during long journeys.
Your Cabin Comforts
To make every moment of your trip as versatile as possible, it's essential to ensure that your car is decked out with lots of handy features.
That's why the 2018 Volkswagen Golf arms you with 6-way, partial power-adjustable front seats. With this standard functionality, you'll easily adjust your chair to the ideal position for you. On top of that, the Volkswagen Golf offers up 22.8 cubic feet of cargo capacity, which allows you to easily pack up a few items for your next adventure—whether you're visiting a friend, going camping, or anything in between.
While the 2018 Mazda3 also presents a 6-way adjustable driver's seat, but it only comes with manual functionality. Plus, the cargo capacity of this compact car reaches its threshold at 12.4 cubic feet.
Because the Mazda3 lacks the power capabilities and storage room of its Volkswagen counterpart, you may discover that changing the position of your chair or loading up your luggage is more challenging.
2018 Volkswagen Golf vs. 2018 Mazda3 Vehicle Comparison: Verdict
At Volkswagen SouthTowne, we know what it takes to furnish you with an energetic sedan that'll effortlessly tackle anything you encounter near West Valley, Murray City, and Orem. So, if you're ready for a vehicle that keeps heads turning along your path, opt for the 2018 Volkswagen Golf.
Why wait to discover more of what this stylish automobile has to offer? All you have to do is stop by our showroom or schedule your test drive today!