Volkswagen Atlas vs Chevy Traverse
Sometimes when choosing a car, you'll find yourself torn between two options. At Volkswagen Southtowne, two of those might be the 2018 Volkswagen Atlas or the 2018 Chevy Traverse. Both new models have plenty of features to recommend them, but how to choose? Volkswagen Southtowne has found that seeing a profile of each helps many of our customers in West Valley, Murray City and Orem, UT, make the final decision.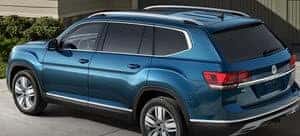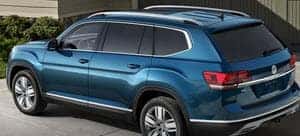 2018 VW Atlas
The Atlas was named for the Greek god whom Zeus forced to carry the entire world on his shoulders. While that was bad news for Atlas, it's good news for potential Atlas owners. The Atlas can do almost anything you need. Its new third row of seats, which adds to the already spacious interior, makes the 2018 Volkswagen Atlas the perfect car for carrying large loads. Whether you're toting luggage for a business trip, cookies for the kids' soccer team or boxes of office supplies, the Volkswagen Atlas has you covered.
With 235 horsepower and a top speed of 113 MPH, the Atlas packs plenty of speed behind that burden-carrying exterior. With the Atlas, you get two engine options – the turbocharged 2.0-liter inline four or the naturally aspirated 3.6-liter V-6. The latter option increases horsepower from 235 to 276. Additionally, all wheel drive is available with this engine, though not with the inline four counterpart.
The 2018 Volkswagen Atlas has a relatively low mass despite its bulky looks. Atlases with 2.0T engines have been called "peppy" because they have two fewer cylinders and a lower mass than that of the V-6 engine. Additionally, EPA estimates indicate the Atlas gets 22-26 mpg depending on where you drive it. If you live in a rural area or spend most of your time on highways, you're likely to get the optimum 26 mpg.
2018 Chevy Traverse
With 310 horsepower and top speeds of over 100 mph, the 2018 Chevy Traverse is quick, but notably slower than the VW Atlas. Its exterior is a bit bulkier than the VW Atlas as well. This can slow it down more, especially on difficult roads or in heavy traffic. Additionally, the Traverse takes almost seven seconds to reach 60 mph. This gives it no clear advantage over the VW Atlas, which takes the same amount of time. The EPA estimates that the Traverse gets slightly less miles per gallon than the Atlas (25 mpg compared to 26 in city traffic).
Like its counterpart, the 2018 Chevy Traverse is available with a V-6 engine or 2.0 turbocharged inline four, but car reviewers have noted these engines have more work to do than those of a 2018 VW Atlas. Additionally, the Traverse has a new third row of seating like its counterpart. However, reviewers mention the Traverse's third row is "not as accommodating" as the third rows in a VW, necessitating more passenger shuffling.
If you choose a low trim level for your model, you'll get a second row of captain's chair seats plus a third row bench seat. This ensures all your passengers can have the seating they want and remain comfortable during travel. Reviewers note this is a great option if you regularly carpool. However, these options are not available with higher trim levels.
Cloth and leather interior are available in the Chevy Traverse, and the interior layout has scored points with reviewers. The Traverse also comes standard with all wheel drive and manually operated sunroofs. Additionally, this car has proven to be agile and safe, even carrying several people or significant cargo. Traverse manufacturers note that its ride is smoother, quieter, and more efficient than that of previous models. Keep in mind that some features are not available in many Traverse models. Additionally, many technological features are only available if you buy a Traverse with cloth interior.
Visit Us Today
According to our 2018 VW Atlas vs. 2018 Chevy Traverse comparison, both cars have aspects that are appealing. Your choice may come down to the rubber hitting the road, literally. If you are interested in examining or purchasing a 2018 VW Atlas, or have questions regarding this model, contact Volkswagen SouthTowne or visit us today for a test drive.