2018 VW Atlas vs 2018 Chevy Equinox
If you're on the hunt for a compact or midsize SUV that has all the power, space, and technology features you need for your busy lifestyle in West Valley, Murray City, or Orem, look no further! Both the 2018 Volkswagen Atlas and the 2018 Chevrolet Equinox have impressive features like these and much more.
Below, we'll delve into what makes the Atlas and Equinox move, as well as what you can expect in their cabins in terms of space and driver-assist features. Let's get started…
Atlas vs Equinox: Engine Performance
The 2018 Volkswagen Atlas comes standardly equipped with a 2.0L 4-cylinder engine, while the 2018 Chevrolet Equinox is powered by a standard 1.5L 4-cylinder engine.
The Atlas's larger engine allows for an impressive power output of 235 horsepower and 258 lb-ft of torque, while the Equinox puts out 170 horsepower and 203 lb-ft of torque. When properly equipped, the Atlas's extra power will give you the ability to tow a maximum of 2,000 pounds. The Equinox will be able to pull only 1,500 pounds.
Both vehicles also come standardly equipped with a front-wheel drivetrain. However, they differ when it comes to their transmissions. The Atlas's engine is paired with an 8-speed automatic transmission. The Equinox's automatic transmission, however, will only have six speeds.
This 2018 Volkswagen Atlas review from the team at Volkswagen SouthTowne will give you all the information you need to decide if the Atlas could be the right fit for you.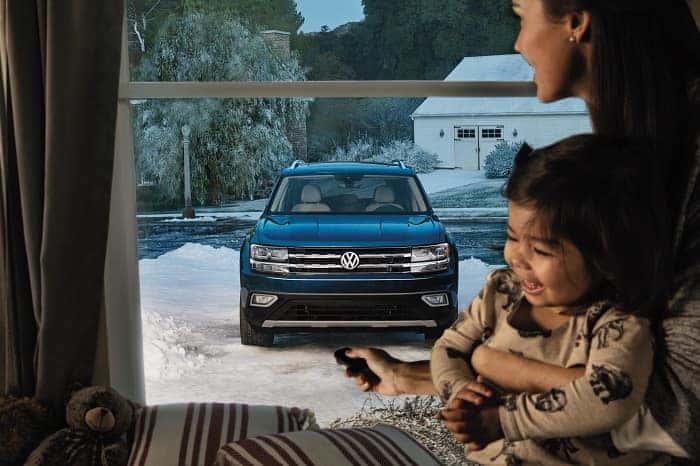 2018 Atlas vs 2018 Equinox: Interior Dimensions
SUV shoppers prioritize interior space, which you'll have plenty of in the 2018 Volkswagen Atlas. With seven passenger seats and 96.8 cubic feet of versatile cargo space, there's nothing you won't be able to bring along with you.
Utilize the VW Atlas's 60/40-split folding second row and 50/50-split folding third row to customize your interior space. Put a few rear seats down to accommodate some passengers and some cargo, or put all five seats down for big moves or DIY projects for the house. Whatever you decide, you'll have room for it all.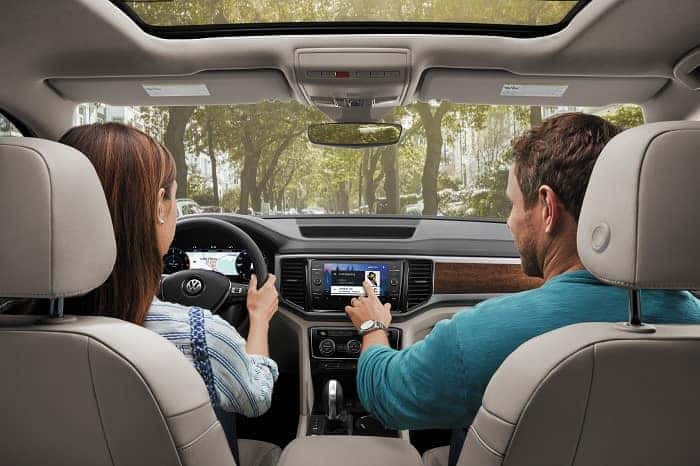 In the 2018 Chevrolet Equinox, you'll have access to the split-folding ability, as well, but you'll only have five seats with which to take advantage of. Additionally, you'll have 33.3 less cubic feet of interior cargo volume.
Atlas vs Equinox: Driver-Assist Features
The 2018 Atlas and 2018 Equinox come equipped with a variety of active safety features that are geared toward hands-on driver assistance. In the event of a collision, the Atlas and Equinox will have your back with their smart post-collision response features.
The Atlas's Intelligent Crash Response System and the Equinox's OnStar® Automatic Crash Response feature will automatically take measures to alert others of your collision if you aren't able to do it yourself.
Another helpful feature you'll find in the Atlas is Front Assist with Pedestrian Monitoring. This feature not only monitors the vehicles in front of you and warns you of sudden stops and potential collisions, it's also smart enough to detect people. Its radar will pick up on people who step out in front of you, audibly and visually warn you, and even go as far as automatically applying the breaks for you.
2018 VW Atlas vs 2018 Chevy Equinox: Which One?
As you can see, both the 2018 Volkswagen Atlas and 2018 Chevrolet Equinox have a lot to offer drivers in West Valley, Murray City, and Orem. However, we here at Volkswagen SouthTowne believe locals will appreciate the Atlas's extra power output, versatile interior cargo space, and impressive technology features.
Give us a call today to schedule your test drive in the Atlas and see why we're so excited about this midsize SUV!