Volkswagen Service Center Salt Lake City, UT

When it comes to caring for your automobile, there's nothing better than being equipped with a service center that you can count on. How else can you ensure that your ride will continue to move you along the roads of Salt Lake City, UT, like a champion?
Fortunately, the team of skilled mechanics at Volkswagen SouthTowne has all the experience and know-how to address anything you throw our way. From basic checkups to emergency repairs, and everything in between, we're ready to tackle any task your car needs to stay in top-notch shape for years to come.
Genuine Parts & Unparalleled Support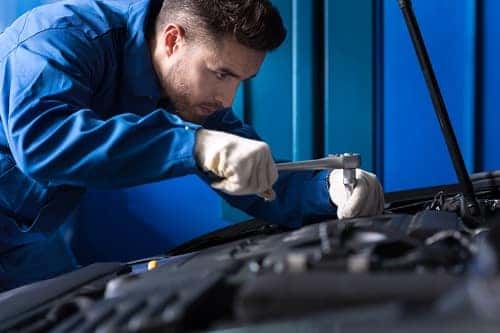 At our Volkswagen Service Center near Salt Lake City, we believe that part of understanding the needs of our loyal customers is by being a customer ourselves. That's why we test our repair techniques, cutting-edge equipment, and quality parts on our own VW models to fine tune our replacements, services, and more.
On top of that, we stock our service facility with a comprehensive collection of genuine Volkswagen parts, all of which boast the strength and capability to help your car run at its best.
Each of the vehicle components we offer is certified with an OEM (Original Equipment Manufacturer) seal, which means that it's designed to fit the unique specifications of your VW model.
Thanks to the quality of these parts, you can feel confident that any replacement made to your automobile comes with necessary quality to last for a lifetime. All in all, the strength of our parts provides you with peace-of-mind while sailing along your daily commutes.
If you realize that you need a new item for your Volkswagen sedan, SUV, or any other type of model, feel free to access our convenient Parts Order Form. Here, you'll enter a few details about yourself and your car. Once your order arrives at our service facility, we'll reach out to you to let you know.
Salt Lake City Car Service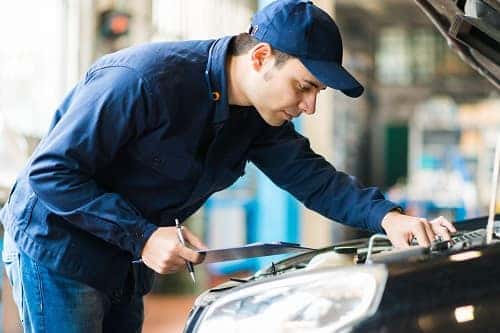 In addition to our devoted automotive professionals and our stash of state-of-the-art tools, we're proud to present you with a wide array of other benefits, like our Volkswagen Service Specials.
To take advantage of these coupons, all you have to do is visit our incentives page and browse through the list of current offers. Once you find the service you need, bring your coupon to our facility, and we'll honor those credits during your visit.
Need to get a quick repair or replacement while you're on your way to an important event? If so, swing by our Volkswagen Service Xpress department.
Our squad of speedy technicians will get to work on your vehicle without a prior appointment and have you back on the road in no time. Take a look at some of the options on our Service Xpress menu!
And you can't think about caring for your Volkswagen without considering when to schedule its next checkup. Thankfully, we created this handy Maintenance Menu, which provides you with more information about the services and recommended internals based on your vehicle's age, model, trim, and mileage.
With this tool, you'll know exactly when to visit our Salt Lake City car service center for your automobile's next maintenance appointment.
Our Car Services Include:
Lube, Oil and Filter Change
Tire Repair and Rotation
Replace/Adjust Brakes
Transmission Flush
Vehicle Checkup/Inspection
Battery Repair
Front End Alignment
General Maintenance on Wipes, Headlights, etc.
Electrical Services
And Much More!
Visit Our Volkswagen Service Center near Salt Lake City, UT!
At Volkswagen SouthTowne, we believe that every Volkswagen on the roads of Salt Lake City, UT, should be supported with uncompromising care and attention-to-detail.
So, whether you're planning to explore the gorgeous outdoors of Big Cottonwood Canyon or check out the fascinating exhibits at the Natural History Museum of Utah, our knowledgeable mechanics will keep your car performing smoothly.
To learn more about our commitment to automotive service and customer satisfaction, feel free to give us a call or schedule your service appointment today!