Volkswagen Orem UT

If you're looking for a Volkswagen dealership in the Orem area, your search is over. You're about a half an hour away from Volkswagen SouthTowne, where you'll find a generous selection of both new and used cars that are sure to fit the bill.
Continue reading to find out a little bit more about the surrounding area and check out what our Volkswagen Orem, UT dealership has to offer as well.
All About Orem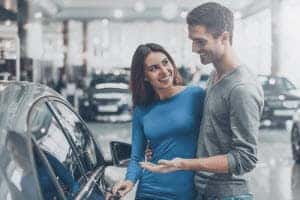 Tucked into the Northern portion of Utah, Orem is host to scenic landscapes while still having all of the amenities of suburban area. Home to just under a hundred thousand people, Orem was recently voted one of the best places to raise a family by Forbes Magazine. The city itself was named after the President of the Salt Lake and Utah Railroad, Walter Orem.
The city has become a popular spot for summer tourism due to their Summerfest Celebration and Parade as well as their Labor Day weekend Timpanogos Storytelling Festival. The storytelling festival has been known to attract close to 30,000 people each year as they gather to enjoy food, music, fun, and you guessed it-storytelling!  If you're in the market for a reliable and stylish need car to experience everything in Orem, our nearby dealership can help!
New Volkswagens Orem, UT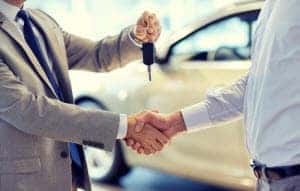 We have plenty of brand new Jetta sedans and Golf hatchbacks on our new inventory lot, but sometimes you need something a bit bigger. If you want a larger sedan for your new vehicle, then feast your eyes on one of the 100 Passats we have waiting for you to take a test drive!
If you've got your heart set on a crossover, check out the Tiguan, which has been rated as one of the top small SUVs on the market by U.S. News and World Report.  Smaller than our Touareg, but just as stylish, this little powerhouse of a crossover has dozens of different offerings in our inventory ready for you to drive one home.
Auto Repair near Orem, Utah
Everyone knows that the biggest perk in the car buying business is driving off the lot in your brand new or new to you car.  However, we want to ensure that your car is as happy as you are, so we offer several free additional services to assist you in maintaining your Volkswagen vehicle.
With the purchase of new car from us, you can count on free tire rotation, free inspection for the life of the car, and free loaner service if your car requires repairs.  We're in the business of keeping your car healthy.
From a tiny pinprick in your windshield to full body repair following a collision, our service center is equipped to help.  With years of experience and extensive training, our service experts are prepared to have your car in perfect working order in no time!
Come See Us!
If you've got your eye on a Volkswagen, then you want to come out to a Volkswagen dealership serving your area.  We're conveniently located just a short distance from Orem and we can't wait to meet you here at Volkswagen SouthTowne. Check out our inventory today and be sure to contact us with any additional questions!
EB was so professional, patient and helpful. This dealership moved mountains to help me buy my second car with them and improve my credit and financial situation.
Rexlynd (my sales rep) was very competent and knowledgeable. I came into the dealership in a little bit of a financial pickle, so I appreciate their flexibility and willingness to work with me. I visited several dealerships to inquire about trade-in value on the car I had at the time - surprisingly, this place gave me the best offer. Hours were spent adjusting the write up in order to accommodate my requests while maintaining compliance with my credit union's policies (loan:value). As far as the vehicle goes, I traded in for a 2018 Jetta S. After driving it for ...
Super great experience here. First time buying a car brand new and a Volkswagen. We picked up a new Atlas at a better price then I was hoping for and that's because they had a sale going on and we didn't even try to negotiate. They just did it. Sorush and Tom were awesome, polite and not pushy at all. We were in and out in a couple of hours. Thanks again guys.
brayden was super helpful and was an amazing salesman, the best dealership i've been to all day and i'm glad to purchase a vehicle from them
The dealership made the process so easy. The salesman I worked with was super accommodating and personable. He took personal time to help me get my car in one day! I'm now a converted Volkswagen driver Highly recommend working with Rex!!!!
Brayden helped me get into a awesome new Jetta very professional and helpful salesman not pushy at all
I really like there Hospitality and the thural communication with there customers.
From the moment we arrived we were greeted by the Manager who made us feel welcomed and appreciated. He then did a warm introduction to Mister Bow tie Cody Saunders. Cody was very personable and asked us questions to uncover what car would be a good fit for our family and our price. We didn't want to compromise or be pushed into a vehicle we did not love or get stuck looking at an older used car. Cody Was able to not only give us all the features we felt important but he kept us in our budget and ...
They are amazing people they helped me get into a new car was awesome especially Cody AKA Bowtie he was awesome made me and my boyfriend feel comfortable always had a smile, was funny and know what was going to be good and help me leave that day with a new car thank you volkswagen
Braxton made it easy Like Sunday morning. He is your guy for the GTI. In previous experience when your not sure they bring a lot of different people to try and convince you.. he keep most away only complaint is do not pay attention to the adds or there Calculators online. And never or trade in a car you owe on they make it seem good but they will get you. Unfortunately Volkswagen is like a new I phone and when you want a new one and they make it really easy.. Braxton may or may not drive a gti ...
Leave Us A Review