3 Om-mazing Yoga Studios near South Jordan UT


Yoga is a wellness practice that can help you center and strengthen your mind and body. Taking the time to focus on slow movements and your breath can grant you greater awareness, along with a clearer sense of self in multiple facets of your life.
Whether you're new to yoga and want to dip your toes in, or you're a well-practiced yogi, these three yoga studios in the South Jordan area are sure to help you take your practice to the next level.
Cradle Your Soul Yoga and Massage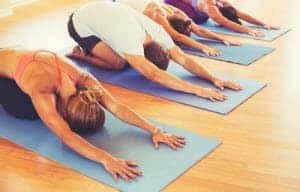 If you're seeking a yoga provider with variety, unroll your mat at Cradle Your Soul Yoga and Massage. Cradle Your Soul has classes that range from beginner to advanced, and an all-level class for building strength and incorporating new poses. There's also a restorative group session for a gentler flow that focuses on easing chronic pain, reducing stress, and boosting flexibility.
Did we mention that in addition to expert yoga classes, Cradle Your Soul offers revitalizing massage? Stop in for a 90-minute hot stone session and let the stresses of your world melt away. To keep up-to-date on Cradle's latest studio happenings, make sure you give them a thumbs-up on Facebook.
Mountain Yoga Sandy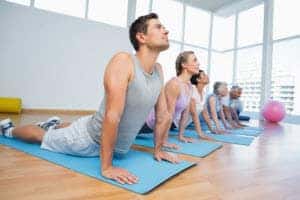 Mountain Yoga Sandy has been teaching yoga to the greater Salt Lake Valley area for three decades and counting. In this time, co-owner duo Jacqueline and Alex have not only played a major role in bringing Bikram yoga to Utah, but they've also advanced it into an accessible form of exercise with a "choose your path" class structure based on the five fundamental elements of nature.
Water and Flow classes provide non-heated, easy-going sequences that are great for beginners, while Wind, Earth, and Fire courses introduce a heated setting and a variety of yoga styles, for an ever-evolving practice.
In addition to yoga, Mountain Yoga Sandy helps you keep your body in peak physical condition with complimentary classes like barre and hot pilates. To improve your at-home practice in between classes, check out their videos on YouTube.
Sumits Hot Yoga South Jordan
From weight loss to the easing of tension, the benefits of Bikram, or heated yoga, are vast. If you want to dial up the heat of your yoga practice, Sumits Hot Yoga South Jordan can help.
Specializing in Bikram yoga with a Vinyasa flow, this studio welcomes students of all ages and skill levels to experience what performing yoga at a high temperature can do to boost flexibility, prevent injury, and maximize your yoga gains.
If you're nervous about starting, don't be! Take advantage of Sumits' offer: $20 for two weeks of unlimited classes, and see how you like this yoga style. Peek inside the studio and learn a new pose or two when you follow Sumits Hot Yoga on Instagram.
Ommm-most There!
Ready to get your yoga on? Visit the websites of each of these fabulous yoga studios to view class schedules, learn more about their philosophies, and connect today!