Best Places to Watch the Big Game near South Jordan, UT
Your favorite day of the year has finally arrived… The day of the Big Game! And as one of the most popular events on television, you've got to make sure that you've lined up your plans for feasting, drinking, and celebrating ahead of time.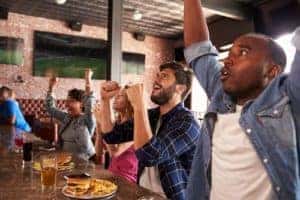 To help you enjoy every minute of the intense competition, we're here with our guide to the best places near South Jordan, UT, to watch your favorite teams vie for the coveted Vince Lombardy Trophy. Let's dive in so that you'll get to grubbing without fighting the crowds.
The Break Sports Grill
Need a break from your typical sports bar? If so, The Break Sports Grill is the place for you, your family, and your friends to hunker down and enjoy a few rustic dishes—and maybe even a beer or two.
Football fans will revel in this dive's selection of stick-to-your-ribs, fill-your-belly goodies, including Tacos, Rice Bowls, Appetizers, Sandwiches, and so much more.
For something a little out of the ordinary to celebrate the Big Day, try out their Popper Burger, which features a half-pound angus patty that's topped with beer-battered jalapeno bottlecaps, cream cheese, and cranberry jalapeno jelly.
And, no matter if you cozy up to the bar or grab a table, you'll have a great view of the action-packed game from the large flat screen TVs.
Take a look at what customers have to say on their Facebook!
Tin Roof Grill
If you prefer a little sweetness to balance out those salty dishes, head on over to Tin Roof Grill. Their homemade cheesecakes come in a variety of flavors that'll satisfy your sweet tooth. W
ith options like traditional New York style, Blackberry Lemon Bar, Sea Salt Caramel, and more, you'll enjoy this creamy confection while you watch your team make their way to the end zone.
You can even opt for a few small plates to fill your table. For example, their famous Croquettes are flash-fired and served up with a spicy tomato sauce and garlic aioli for dipping.
Or fill your stomach with cheesy goodness by ordering their White Bean and Steak pizza with pesto, white bean purée, grilled steak, and tomatoes.
Check out their extensive beer selection by visiting their Facebook profile!
The Union
Looking for some unique eats and hand-crafted cocktails to try while viewing the Big Game? Well, search no further than The Union. This live music and entertainment hotspot comes complete with all the tavern-style eats you can dream of.
They even feature some pub favorites from across the pond, like their Wasatch Evolution Beer-Battered Fish & Chips that's served with coleslaw and fries, soup, or a salad. Get a buzz on with their huge list of remarkable cocktails filled with all types of bourbons, tequilas, vodkas, and more.
Take a sip of things like the Hot Tub cocktail, which includes a mashup of Smirnoff Raspberry Vodka, peach, coconut rum, cranberry, and lemon-lime soda. Drive safe and be responsible to avoid anything that will make anyone need any medical attention.
Visit their Instagram page for photos of recent events!