Best Escape Rooms near South Jordan, UT
You love a good crossword puzzle, riddle, or any other kind of mind-twisting challenge. So, the next time you get the urge to be an investigator, why not take your day to the next level by immersing yourself in a room that's designed to challenge your ever-curious mind.
Well, prepare your family or friends for an exciting adventure because we're here with our guide to the Best Escape Rooms near South Jordan, UT. That way, you and your team will test your brain power and crack the code on these mystifying labyrinths.
Enigma Escape Experience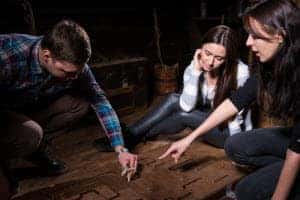 Instead of hosting yet another happy hour or ice-breaking event for your coworkers, why not allow everyone to get to know each other a little bit better by taking a trip to Enigma Escape Experience?
Here, you'll practice team building skills by putting your minds together to solve puzzles, answer riddles, and ultimately, flee from the confines of these rooms.
Some of the themes you'll discover once walking into this evasion emporium are things like Hexed, Tesla's Dream, and many more to come. Plus, these rooms engage your imagination and help you think outside the box to boost creativity.
On top of that, booking your favorite room theme is as simple as visiting their website. From there, all you have to do is choose your preferred date, time, and specify the number of participants.
Check out their Facebook profile to see what other mystery enthusiasts have to say!
The Escape Key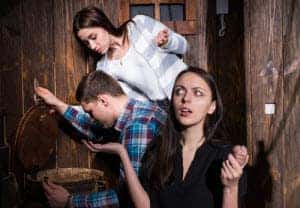 If you're headed to your next escape room with your kids or a group of newbies, the Escape Key is the perfect place for you. Each option provides you with a rating system based on difficulty so that you can find the right balance of challenge and satisfaction once you decrypt the mystery.
And no matter what type of entertainment you prefer, you'll discover a theme that's suited to your unique mindset and problem-solving skills—whether you're saving Sherlock, exposing a criminal, finding an antidote, or anything in between.
To make your efforts more exciting, you're required to make your escape within sixty minutes. So, make sure to practice your speed ahead of time!
Take a look at their online booking options on their Facebook page!
Hidden Chambers! Escape Room Adventures
At Hidden Chambers! Escape Room Adventures, the objective of your hunt lies within the tricky and expertly-decorated confines of Captain Blackwing's Pirate Quarters. To stop this swashbuckling pirate from attacking a band of brave crusaders, all you have to do is locate the hidden map.
In addition to the creative story behind your struggle to prevent the plundering of this pirate, you're free to choose your difficulty level, which ranges from Challenging to Very, Very Challenging.
But never fear, all options, aside from Very, Very Challenging, provide you with hints if you locate the gold coins strewn about the room. That way, you won't be forced to walk the plank if you're stuck on a question or puzzle.
View some of the fun photos on their Facebook and plan your visit!