Best Christmas Tree Farms near South Jordan UT

Well, it's finally that time of year again! The season filled with comforting scents, blazing hearths, Christmas cheer, and a look toward the new year.
Instead of putting off your search until last minute for that picture-perfect evergreen that'll hold your most treasured ornaments, get merry and bright ahead of time by visiting these best Christmas tree farms near South Jordan, UT.
All you have to do is load up your car with your loved ones and prepare for an old-fashioned celebration at these local Christmas tree hotspots!
North Pole Pines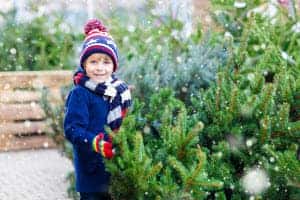 Once you set foot onto the pine-filled acres of North Pole Pines, you may just think you've been transported to the stomping grounds of Saint Nick himself.
As the home of the "Jolly Fat Man," this farm ensures that you have plenty of time to chop down your own spruce by kicking off the season early, beginning the Friday and Saturday after Thanksgiving.
In concord with the season of giving, the Jolly Fat Man and the crew at this tree farm do their best to provide for those in need who won't have a Christmas evergreen to adorn their home.
So, if you know a family or individual who could use a helping holiday hand, let their team know, and they'll do their best to bring a little Christmas cheer to homes across the area.
Christmas Tree Varieties:
Scotch Pines and White Spruce are some of the species you'll find dotting the fields of this farm!
Petersen Family Farm
Since 1871, the Petersen family has been creating a winter wonderland unlike any other—all which is situated underneath the snow-covered branches of cut-your-own Christmas trees.
From the moment the holiday season begins, you'll arrive to a welcoming homestead that's ready to deliver that pure holiday spirit with warm mugs of hot cocoa, a toasty fireplace, and sparkling lights galore.
After you've reveled in the delights of the season, head out on your tree-cutting adventure. Here, you'll meander through rows upon rows of robust firs that are ready to add a touch of yuletide to your home.
Don't forget to snag an adorable photo of your little ones visiting with Old Saint Farmer Nick while you're here!
Christmas Tree Varieties:
Whether you're looking for a specific Christmas tree type or a festive decoration, this one-stop shop has all the ingredients for a merry holiday.
Check out their Facebook profile to find out when their tree season begins!
Willow Creek Tree Farms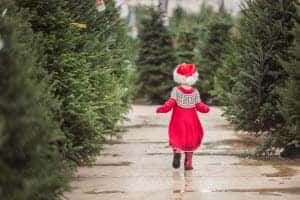 If you have a specific look in mind for your Christmas tree, head to Willow Creek Tree Farm to snag the one that perfectly complements the aesthetic you're striving for.
First, their Bennion Collection serves up firs that are hearty and drought-resistant. That means these trees are perfect for those who like to get their spruces early and keep them up well past December 25.
Next, the McIntyre Collection features trees that have strong, layered branches, which are best for hanging lots of heavy ornaments. Finally, the Nebo Collection delivers that iconic, shapely Christmas-tree-look so that your home looks like a cozy, traditional wonderland.
Christmas Tree Varieties:
On top of their multiple collections, the Christmas tree varieties grown on this farm include Austrian Pine, Bristlecone Pine, Colorado Blue Spruce, and Pinyon Pine. That way, you'll stumble upon the one that's the ideal shape and size for your home.
Stop by their Facebook page to see photos of their evergreens!