4 reasons Volkswagen is in high demand in Utah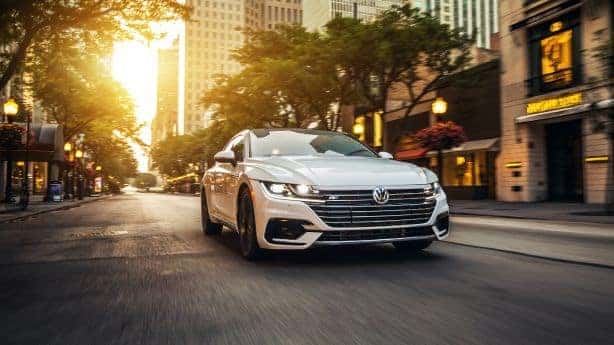 When it comes to vehicle sales, Volkswagen knows how to get it done. Projected to come out of 2021 stronger than ever, VW has been hard at work developing new, widely appealing vehicles such as the Atlas Cross Sport and the new, fully electric, ID.4.
These vehicles, plus new iterations of the popular GTI and Golf R models, mean that VW is coming in hot and ready to sell, especially in Utah where residents are primed to buy because of low unemployment numbers and a strong economy, according to 247wallst.com.
Volkswagen has a lot to offer. Here are four reasons Volkswagens from VW SouthTowneare in high demand in Utah.
Design
If you're looking for a German vehicle that is at the forefront of interesting, modern, well-composed designs, without spending German luxury money, Volkswagen is an obvious choice.
"The style and design of the vehicles at Volkswagen SouthTowne are just some of the many reasons why we have so many repeat customers," says Josh Osborne, general manager of Volkswagen SouthTowne." "A guest will start with a Jetta, then upgrade to a Passat or Tiguan, then maybe to an Atlas Cross Sport or Atlas, or an Arteon or Golf model depending on their stage of life. We can offer something that is stylish and extremely comfortable for every stage of life."
With VW, less is more is the rule of thumb. Contrasted with competitor's swooping, exaggerated styles, VW has branded itself on simplistic and conservative design. However, that doesn't mean you're getting a boring car.
Every VW model is specifically designed after years of research, and you can expect that to continue in the future, albeit with even more interesting designs, especially regarding their electric vehicles.
In an interview with Forbes, Klaus Bischoff, head of the Volkswagen Group global design force said, "We knew we needed to shoot for something completely new when we came to plant this new tree of electric mobility…The decisions we've made, I feel, have been brave. It is a very different direction to what VW has done in the past."
Loaded with the newest technology and safety features, VW has set out to make their vehicles the best deal for your money, all wrapped in a stylish package that will look good for years to come.
Versatility
Looking across VW's model lineup, it's clear that VW has something for everyone. From compact hatchbacks like the Golf and GTI to the Jetta, Passat family sedans, to the Tiguan, Atlas, and Atlas Cross Sport SUVs, VW has the perfect vehicle to fit your needs.
They even have a luxury hatchback reminiscent of the Audi A7 in the Arteon to meet your high-end luxury desires, as well as a brand new, fully electric SUV in the ID.4.
VW vehicles like the GTI have been consistent top-picks for review outlets like Car and Driver. First featured on Car and Driver's 10 Best lists in 1983, 2020 marked the 15th consecutive year for the GTI as one of the best all-around vehicles you can buy.
Rather than churn out half-baked vehicles for the sake of meeting market demands, Volkswagen is keen on making sure their vehicles are enjoyable to drive in whatever life throws at them.
High quality
One of VW's greatest strengths is offering luxury level build quality, interiors, technology, safety features, and comfort at non-luxury prices.
While those luxuries might set off mental warning lights in fear of costly repairs, Volkswagen's quality is likely to cost you less to maintain and repair than competitors like Subaru, Jeep, Chevrolet, and Hyundai, as estimated by YourMechanic.com, and only $600 more over 10 years than a similarly equipped Honda.
"Our guests are still surprised that they don't need an oil change more than once a year in a Volkswagen," Osborne says. "Another thing that sets our cars apart is our Carefree Maintenance – with every new car you get coverage for the first two years of manufacturer-recommended maintenance intervals (two years or 20,000 miles, whichever occurs first).
"And of course another thing that points to the high quality of our Volkswagen vehicles is the warranty – all 2021 vehicles come with a 4-year or 50,000-mile (whichever occurs first) bumper-to-bumper limited warranty."
With Volkswagen making high-quality, luxurious cars at competitive prices, and with affordable maintenance costs, it seems a no-brainer to make VW a top choice for your next luxury vehicle.
Experts love and recommend them
Car and Driver is a fan of Volkswagen cars. In fact, they say the Tiguan is "one of our favorite compact crossovers" and Golf models are regularly on their 10Best list.
In describing their reasoning for listing the Golf models on their annual list, they said, "They are affordable; they are efficient; they are spacious, fast, and fun." With that glowing recommendation, how could you not take one for a spin?
Out of the gates, Motor Trend highlighted the Atlas as the Safety Pick of the Year by the Insurance Institute for Highway Safety (IIHS). And the 2021 Atlas was just named the Family Car of the Year by Cars.com.
Considering Volkswagen's versatility, comfort, style, and quality, it's no wonder they are in high demand. As a bonus, Volkswagen SouthTowne is offering 0% financing on any new car right now, or guests can "Pick Your Promotion" and choose to double their down where $2,000 becomes $4,000 or get six months no payments.
If you're looking for a new car, you'll find what you want at VW SouthTowne. Come visit the showroom today for a safe shopping experience, and an even easier buying experience.