2018 Volkswagen Tiguan Limited Review
The 2018 Volkswagen Tiguan Limited SUV is the perfect marriage of European car and American ideals. The Volkswagen, which translated means "people's car," normally connotes a cute little Bug or Beetle. In contrast, this SUV is one of the first and largest of its' kind. It has not been around long, but has already made an impression in the U.S. and abroad. If you are searching for one in West Valley, Murray City or Orem, UT, let Volkswagen SouthTowne help you find your perfect match. Check out our 2018 Volkswagen Tiguan Limited Review to see what makes this SUV a perfect marriage for you.
Performance
The Volkswagen Tiguan Limited underwent several updates for 2018, including the addition of a 2.0-liter, turbocharged engine. The new engine decreases horsepower from 200 to 184, making for a possibly smoother if not faster ride. A four wheel drive Tiguan Limited can reach 60 mph in a bit over eight seconds, and its automatic transition is noted for its smooth and easy operation. Overall, this SUV handles well. The newest model accelerates a bit more slowly than its previous incarnation, but that actually gives drivers time to adjust to new speeds.

The newest edition of the Tiguan Limited has been called a "compliant" car, one of the easiest for drivers to operate even on busy roadways. Additionally, it boasts a softer brake pedal than earlier models. While this reduces feedback, it does mean your body won't lurch forward if you so much as tap the brakes, nor will your brakes be as loud during sudden stops. Despite its softness, the brake pedal remains firm and brings the car to a complete stop within 176 feet of obstacles.
Tiguan Limited Safety Features
The National Highway Traffic Safety Administration (NHTSA) has awarded the Volkswagen Tiguan Limited four out of five stars. As for the Insurance Institute for Highway Safety (IIHS), it has not yet tested this model due to updates in the Institute's rating system. With that in mind, last year's Tiguan received a score of Good in all safety categories, and a Superior in Front Crash Prevention. The new 2018 model contains all the necessary features to become an IIHS Top Pick.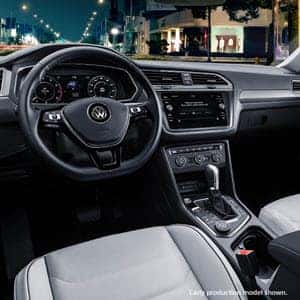 In addition, you'll find some new and expanded safety features. The biggest example is increased space in the back, which allows more room for child airbags and safe seating. Additionally, it boasts a new third row of seating, giving children plenty of room to ride in the backseat. Although the new third row does not have LATCH points for car seats, these are still available in the first two rows. Other optional safety features include lane-keeping assistance, front-automated emergency braking, adaptive cruise control and parking sensors.
Infotainment and Tech
The Tiguan Limited's Infotainment underwent updates this year as well. Former plastic menu buttons have been integrated into a single glass touch screen. Smartphone and Android users can easily hook their devices to Wi-Fi, or use Apple CarPlay or Android Auto. Bluetooth Audio, Bluetooth Phone and a USB port come standard in this model. Real time weather and traffic, as well as navigation and 4G LTE, are optional.
Test Drive?
Now that you're informed about the appealing Tiguan from our 2018 Volkswagen Tiguan Limited Review, come see us to learn more. If you are an interested consumer in the West Valley, Orem or Murray City, UT, areas, please contact Volkswagen SouthTowne today or visit us to schedule a test drive. We look forward to seeing you.