2018 Volkswagen Golf Review
At Volkswagen SouthTowne, we pride ourselves on providing the newest Volkswagen models for West Valley, Murray City and Orem, UT customers. One of our newest additions is the 2018 Volkswagen Golf GTI Hatchback. This model has already received positive customer reviews and safety ratings. If you are in the market for a new ride, the Golf GTI Hatchback may be your perfect match. Check out its exciting features in our 2018 Volkswagen Golf GTI Review.
| 2018 VW Golf Quick Facts: | |
| --- | --- |
| Dimensions:168″ L x 71″ W x 58″ H | Cargo Volume: 17.4 ft, 53.7 ft with seat area |
| Horsepower: 170 hp | MPG: Up to 25 city/34 Highway |
| MSRP: From $20,000 | Configurations: S Manual, S Automatic, SE Manual, SE Automatic |
Performance
Those who have already driven this model note several improvements in its performance over earlier incarnations. The Golf GTI is noted for its quick acceleration and smooth, sharp handling of curving or twisting roads. With 220 horsepower and a top speed of 126 MPH, the GTI has distinguished itself as a "zippy" and fun car in the early months of 2018. Its driver can reach 60 MPH in a mere 6 seconds. This time may decrease if you invest in the optional six-speed automatic gear shift. If you are more comfortable with a manual shift, that's an option, also.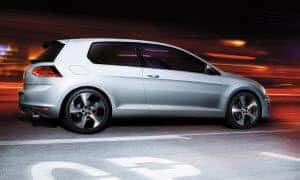 Other reviewers have called this car "fun to drive," even and perhaps especially on the toughest of roads. The Golf GTI is one of the most agile, yet safest Volkswagen. In this car, wet or slick roads are easier to navigate. The potholes, rough terrain and other obstacles you might find on back roads can be navigated smoothly as well. If you choose the Sport model with a Performance package, you will also get larger brakes and a more limited slip differential.
The Volkswagen Golf GTI is fuel-efficient, with an EPA-estimated 28 mpg (combined rating). In addition, the vehicle provides a smooth, quiet ride. Although you can easily shift from sixth gear to second to first and back again, tall gearing keeps you from spending your entire drive with your hand on the gear shift and gives you better acceleration but lower mileage. The GTI has been called a "firm and composed" car and is extremely compliant no matter the road conditions. Its smooth handling of curves and corners mean your car will stay in rhythm despite heavy traffic, frequent stops or regular merging.
Safety
As noted, the Volkswagen Golf GTI has already received excellent safety ratings from institutes and customers alike. The National Highway Traffic Safety Administration (NHTSA) gives this model a five-star crash test rating, plus four or five stars in other categories on its comprehensive list. Additionally, it has extra hatchback room, making it much safer to transport items. Features such as anti-lock brakes and the aforementioned limited slip differential give you extra protection measures. Roomy back seats, plenty of legroom, and ample car seat space keep your babies and young children safe as you travel.
Other Features and Tech
Like many other Volkswagen, the Golf GTI Hatchback is built with the tech-savvy customer in mind. It boasts a well-organized infotainment system, easily integratable with a smartphone. Additionally, this model is known as one of the most beautiful cars on the road. Signature plaid seats, polished interiors and well-bolstered seats make for a lovely ride.
Upon reading our review, if you are interested in purchasing a 2018 Volkswagen Golf GTI Hatchback or would like to take a test drive, contact Volkswagen SouthTowne today. We look forward to seeing you.